Summer by the Sea
Posted: July 19, 2023
With so many places to go, things to do, and food to eat, we've got you covered to explore what Halifax has to offer this summer.
Whether you have a few hours or a full day, Halifax is sure to make your downtime feel like vacation time. With the exciting assortment of locations, events, and cuisine, find your fun in Halifax this summer.
Immerse yourself in culture, music, and some sweet treats at some of Halifax's new and treasured spots and experiences.
Places
Halifax Commons Aquatic Facility
Make a splash this summer! The Halifax Commons Aquatic Facility that opened this July 2023 features a 13,500 sq. ft pool with room for about 300 people. Looking for a spot to cool off on a hot Halifax summer day, the family-friendly Halifax Commons pool and splash-pad are a perfect and accessible space for all.
Halifax Farmers Markets
Start your weekend at the Halifax Seaport Farmers' Market and the Halifax Brewery Farmers' Market! Halifax's two farmers' markets showcase local and international cuisine, fresh produce grown in Nova Scotia, local handmade crafts, and so much more! Enjoy live music performances and amazing eats, and share in this unique community experience every Saturday morning from 8 am -1 pm at the Brewery Market at 1496 Lower Water Street and Saturdays from 8 a.m. to 2 p.m. and Sundays from 10 a.m. to 2 p.m. at the Seaport Market at 961 Marginal Road, Pavilion 23.
Kesite'tasikl Exhibit at the Museum of Natural History
Pjila'si (welcome) to the Kesite'tasikl Exhibit at the Museum of Natural History (on display until November 13, 2023). Kesite'tasikl, which means "they are cherished", displays a unique collection to preserve and cherish Mi'kmaq history while honouring the contributions of the ancestors of Mi'gma'gi. This collection brings culture and community together through an educational and beautiful display and is a must-see this summer.
Events
Halifax Pride Parade
Celebrate love this July 23rd with Halifax Pride Parade! Join Halifax Pride and the Halifax community in a celebration of self-expression and love! Wear your rainbow colours as you watch or participate in the parade beginning at 2 pm at the corner of Robie Street and Cogswell Road. Explore this year's parade route.
Vibrancy festival
Want to dance your heart out? Vibrancy Festival 2023 is the perfect event for you. Gather some friends or vibe out solo to outstanding electronic music at this two-day two-night unforgettable event. Immerse yourself in electrifying sound that features a world-class line-up with over 20 hours of music!
Afrifest 2023
Get ready to dive into the vibrant and diverse cultures, tastes, and sounds of Africa at Afrifest Halifax 2023. The rich traditions and customs of Africa are celebrated at the festival from July 27-30. Culture, cuisine, and community collide at Afrifest as the festival features arts, crafts, song, and dance from over 10 countries. This event is free to attend, but registration is required.
Great Outdoors Comedy Festival
Need a pick-me-up? Get in a good laugh at the Great Outdoors Comedy Festival. Featuring headlining comedians Jerry Seinfeld, Bill Burr, and Anthony Jeselnik, this 3-day event is sure to make a mark on your summer. Taking place at the Garrison Grounds August 11-13, the festival will bring together some of the best in comedy in the heart of Halifax.
McNabs Island
Just off the Halifax shoreline you can see the beautiful and lush McNabs Island, but have you ever visited? This summer, discover McNabs Island on a guided heritage or nature tour! Learn about the history and ecosystem of the island while getting a stunning view of the Halifax skyline. A perfect way to spend your weekend, island tours will be held on Sundays throughout July and August.
Food and Drink
There are SO MANY amazing restaurants, foodie experiences, and patios to enjoy in Halifax. Check out Discover Halifax's Food & Drink Directory and try out these spots.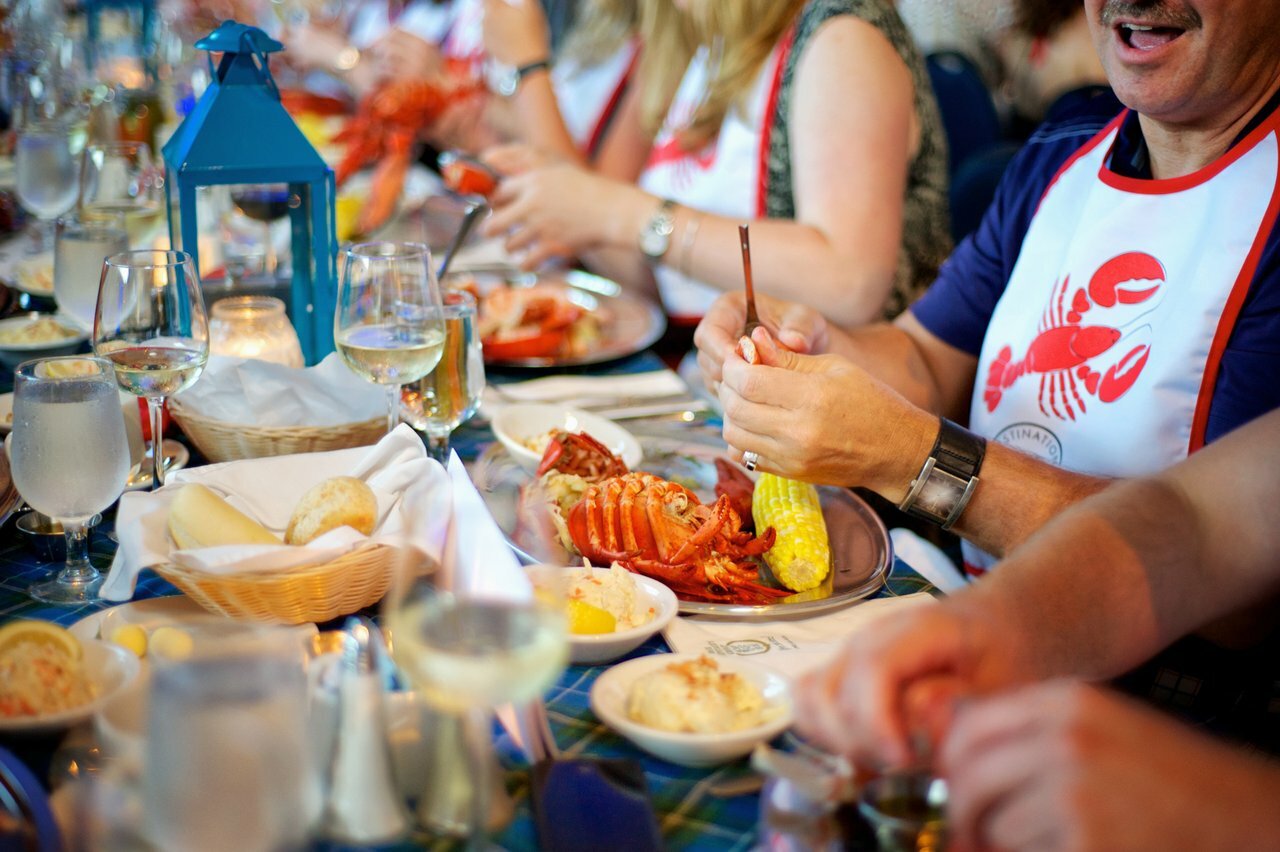 The Fog Company

If you have a sweet tooth, get ready for a fun twist on a classic. Ice cream by the ocean just got kicked up to a new level at The Fog Company. Creativity meets culinary as confections from soft serve to pastries are curated daily at this new dessert haven at the Queen's Marque. Be sure to stop by rain or shine as you walk along the waterfront this summer.
Stone's Throw
Enjoy a tasty meal on an oceanfront patio with an amazing view! Stone's Throw Patio located at the Halifax Marriott Harbourfront Hotel is a must-see (or should we say must sit) for a sunny summer day in the city. The waterfront restaurant is a prime location to soak in the harbour views, relish in local summer flavours, and enjoy Celtic on the Harbour concerts happening this summer, all within a quick walk from the heart of downtown.
🎻 The East Enders, July 25 and August 22 @theeastendersband
🎻 Cassie and Maggie, August 1 and August 29 @cassieandmaggie
🎻 Rachel and Darren, August 15 and September 12 @rachelanddarrenmusic

Mera Café & Bar
Say hello to elegance at Halifax's newest café, Mera. This summer make sure to grab a drink and pastry on the go or sit down and explore the delicious dishes that Mera has to offer. Located in the heart of downtown, Mera is a prime location to experience the robust culinary scene of Halifax all while relaxing in a vibrant and simplistic environment. This café and bar are a must-see as you spend time downtown Halifax this summer.
Birch and Anchor
Amazing food, refreshing drinks, and a Bedford basin view, what more could you ask for? This summer sip, dine, and relax at Birch and Anchor. Located just off the Bedford highway, Birch and Anchor has indoor, outdoor, and transparent yurts for dining, which are sure to make your experience memorable rain or shine! A frequent 'Best of Halifax' winner, this restaurant and beer garden is a must!
Oxford Taproom
Take a trip to Quinpool Road to taste some craft brews, soda, and coffee made right here in Halifax at The Oxford Taproom. This summer make sure to check out the shaded and dog-friendly wrap-around patio. Any time of day, rain or shine, The Oxford Taproom has you covered. Stop in for a freshly brewed coffee and pastry in the morning or gather some friends for a refreshing flight in the evening.
The Rustic Crust
Nothing beats a good slice of pizza…other than an amazing slice of wood-fired pizza from Nova Scotia's very own pizzeria, The Rustic Crust. Located in Upper Tantallon, this pizzeria brings a lot to the table! The Rustic Crust specializes in wood-fired pizza, served up with craft brews, local wines, and desserts made fresh in-house. Just 45 minutes outside of the Halifax city centre, the pizzeria brings food and community together and is a must-try this summer!


Wooden Monkey
A Halifax and Dartmouth favourite, the Wooden Monkey never fails to serve amazing farm-to-table, locally sourced, and delicious food. Looking for a patio with a view this summer? Make sure to make your way to the Wooden Monkey's Dartmouth location to enjoy amazing eats and a stunning view of the Halifax skyline. Located in the Alderney ferry terminal, take a quick ferry ride across the harbour to enjoy this amazing dining experience on the sea!
Touring Around
Halifax e-Scooter Rentals
If you're looking for a fun way to explore the city and sight-see, add Halifax e-Scooter rentals to your summer bucket list! Easy to rent with a few clicks on your phone, e-Scooter rentals take you all around Halifax. Find the nearest scooter to you on their map, book your ride, and off you go. Stay safe by bringing a helmet and using Halifax's many bike lanes to make your way around the city with a Halifax e-Scooter this summer!

I Heart Bikes Waterfront Bicycle Rentals
What better way to explore the Halifax waterfront than on a bike With I Heart Bikes you are able to rent, ride, and explore downtown Halifax in an active way this summer. Whether a solo ride, or renting with a group of friends and family, I Heart Bikes can help you plan your route so that you can experience all parts of the city.
Rails to Trails
This summer, enjoy 13 kilometres of natural beauty through the communities of Beechville, Lakeside, Timberlea, Hubley, and Lewis Lake on B.L.T. Rails to Trails. Take in the beauty of Nova Scotia as you bike, hike, and run through the well-maintained multi-user recreational trail. Stay up to date on trail closures and alerts, as well as trail rules and etiquette as you plan your summer adventure on B.L.T. Rails to Trails!
On the Water
JFarwell
Set sail this summer with JFarwell Luxury Sailing Tours! Whether a sailboat or yacht charter, you will surely have an unforgettable experience along the coast of Halifax. Celebrate an anniversary, birthday, team-building event, and many other memorable life occasions on the Atlantic Ocean with JFarwell. Get ready to take in the salty air and beautiful coastal views this summer!
Tall Ship Silva
Sailing, Live music, refreshing drinks, and sightseeing, are all Halifax's staple summer activities. Now put them all together and you have a tour on Ambassatours Tall Ship Silva. This historic, three-masted schooner will take you on a unique and memorable adventure around the Halifax harbour coastline. This leisurely cruise, fit with two onboard bars and dining space, is perfect for celebrating any event or sightseeing adventure. Join Ambassatours on the Tall Ship Silva this summer!
East Coast Surf School

Hang 10 this summer and get ready to ride some waves with East Coast Surf School! About 30 minutes outside of Halifax is the surfer's haven of Lawrencetown Beach. From experienced to beginner, all surfers can catch a wave along the beautiful Atlantic coast. East Coast Surf School provides surf lessons with experienced instructors, surfboard, and wetsuit rentals to ensure an amazing day on the water. Grab your board and get out on the waves this summer!
Watersport Rentals Harbour Watercraft
Experience the Halifax harbour like never before with Harbour Watercraft watersport rentals! Offering on-water adventures by boat, kayak, and sea-doo, Harbour Watercraft turns the Atlantic Ocean into a playground. Riding solo, as a pair, or with a group, there are tours and experiences that fit every summer plan! Soak up the sun and tour the harbour in an interactive way with Harbour Watercraft!
Kayaking and Canoeing
Grab your kayak or canoe, or rent one, to paddle one of Halifax's 1,000+ lakes, 20+ rivers, and 23 major coastal shorelines. The Shubenacadie Canal and Waterway in Dartmouth has long been a favourite outing for recreational canoeing and kayaking on a calm wilderness route leading to Lake Banook. Canoe Kayak Nova Scotia has an interactive map of all public access points on the Shubenacadie Canal Waterway and other inland routes as well as a Wilderness Area route map to explore rural areas in the Halifax region.
Dance
Haliente
It's time to dance like no one is watching on the waterfront with Haliente! Get your groove on with salsa lessons and social dancing every Thursday night along the waterfront. If you want to practice your moves before Thursday night, Haliente offers classes for dancers of all levels for salsa and bachata. Feel the beat this summer for this unique experience with Haliente by salsa dancing on the waterfront!

Sports
Halifax Wanderers
Calling all soccer fans! Grab some blue gear and head to the pitch this summer to catch a Halifax Wanderers game! The Canadian Premier League is made up of eight Canadian teams and produces amazing high-level soccer. Proudly home to the only team on the East Coast, Halifax is the city of the Wanderers! Catch an exciting match and join in the spirit of the Halifax community as you cheer on the Wanderers this summer!
Emera Oval
Looking for a free and active way to spend time this summer? Head to the Emera Oval located on the Halifax Commons to bike, in-line roller skate, and skateboard with free rentals provided with a valid government-issued ID. Check online to see open skate and bike times at the Oval (weather dependent). Get out and get active as you feel the summer breeze while you make your way around the Oval!

SUP Yoga
Paddleboards, Yoga, Water… the perfect combination for a unique way to relax and move your body this summer. Join SUP Yoga Halifax for stand-up paddle board yoga classes that help connect mind, body, and nature. Sign up for a fantastic experience to spend some relaxing time on the water this summer with SUP Yoga Halifax!
Arts and Culture
Shakespeare by the Sea
Looking to take in some amazing outdoor theatre this summer? Check out the shows that are playing at Shakespeare by the Sea from July to September. Enjoy what the largest and longest-running outdoor theatre festival in Atlantic Canada has to offer and get your tickets to Shakespeare by the Sea!

Buskers Festival
A Halifax summer favourite, the Halifax Buskers Festival is back! From August 2-7, find stages all around the city in Halifax and Dartmouth to experience electrifying local and international musical and performance acts. From magic shows to acrobats and a wide array of musical talent, the Halifax Buskers Festival is a six-day event sure to leave lasting summer memories for all!

Tuesday night Tunes
From July 11- August 22, head down to the Halifax waterfront to enjoy live music and take in the free summer series Tuesday Night Tunes hosted by the Maritime Museum of the Atlantic. Explore genres like African drumming and Celtic music, all the way to classical jazz. From 6-7 pm take some time after a long Tuesday at work to sit back, relax, and enjoy some tunes!