Four Years of Record Population Growth in Halifax
Posted: February 18, 2020
Ian Munro

Chief Economist
Halifax Partnership
Six years ago the One Nova Scotia (Ivany) Commission documented the looming demographic crisis that our province faced: stagnant or even negative population growth, labour shortages, and a crushing fiscal burden as the tax base declined and the population share of the elderly – who tend to be the heaviest consumers of expensive health care services – ballooned.
Two years later in 2016 Halifax adopted a new economic strategy and growth plan that named population growth as a core goal.
Since that time, we have carefully monitored the annual population estimates issued by Statistics Canada. Last week we received the latest update, and the news is good.
Halifax population growth rate among fastest in Canada
Halifax has had four consecutive years of record population growth in both absolute and percentage terms, with almost 10,000 newcomers added to our population over the year July 1, 2018, through June 30, 2019. Furthermore, of all census metropolitan areas in Canada, Halifax was the third fastest growing city, only behind Kitchener-Waterloo-Cambridge and London.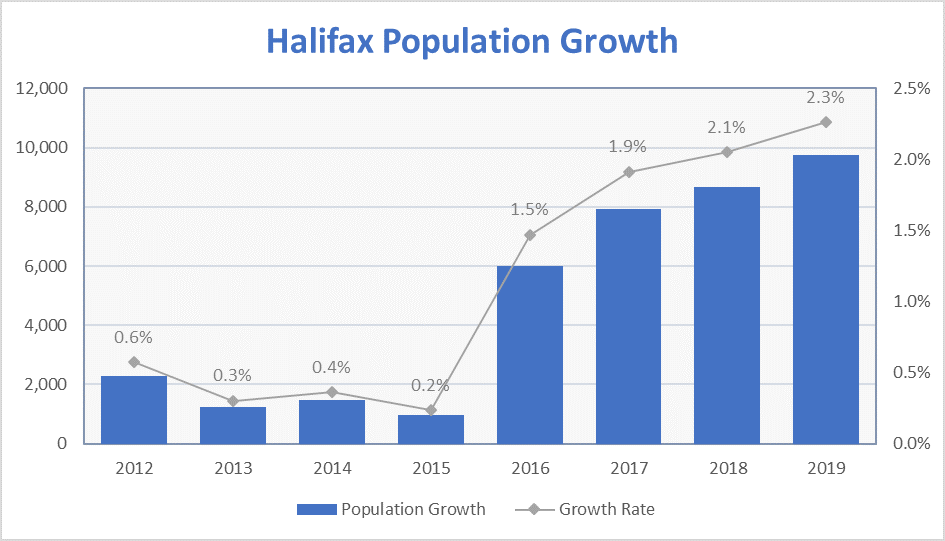 Within these numbers, the majority of new residents came from abroad (international migration) and from other provinces within Canada. More than ever before, we are welcoming people from outside Canada and reversing the traditional flow of (mainly young) people moving to central and western Canada. Also, our growth locally is not predicated on the depopulation of other Nova Scotia communities.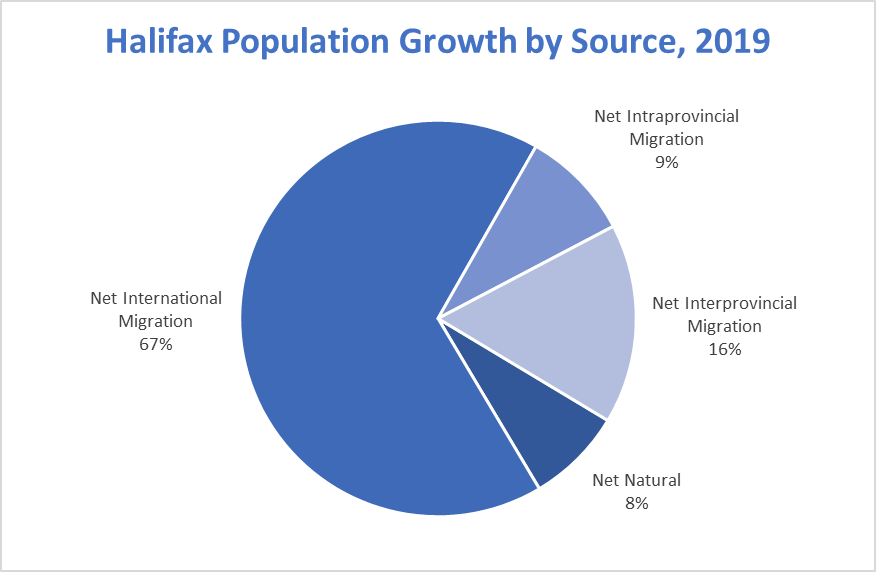 Why have international immigration rates gone up?
In part because many voices have repeatedly made the case that we need to be more welcoming and then put those words into action, because our post-secondary institutions have done great work in recruiting foreign students, and because our three levels of government have worked together to get and then fill higher immigration quotas for our region and our province.
Why have our youth retention numbers turned around?
Employers have responded to the message that they should think twice before disqualifying young people with job postings asking for five years of experience. Furthermore, as an example of one of the Halifax Partnership's own initiatives, the Connector Program has helped young graduates and immigrants establish the professional networks that will build the foundations for their careers here.
Our work is far from done
Beyond the optimism that these results generate, there also should be a sense of satisfaction. There has never been and never will be a single solution that will solve the demographic challenges we face. However, when we collectively acknowledge and seek to understand a problem, and then, each in our own way, work to address it, the combined impact is powerful. Now, we must continue to build on the momentum we have created.