Wintertime in Halifax offers unique activities to explore the city and get out of the house. With pop-up shops, craft fairs, markets, wagon rides, comedy shows, skating, skiing, and the like, there are plenty of things to do in Halifax in winter. We've compiled a list of our favourite pastimes for a perfect winter day.
Grab a Hot Drink
Start your morning by warming up in Dartmouth at the locally famous Two if by Sea Café. Dubbed TIBS by its faithful followers, this bright and busy spot can satisfy any caffeine cravings. Try a macchiato and a mouth-watering croissant of the week.
If you're looking for something on the Halifax side, there are plenty of coffee shops to choose from. Find the best coffee shops in Halifax.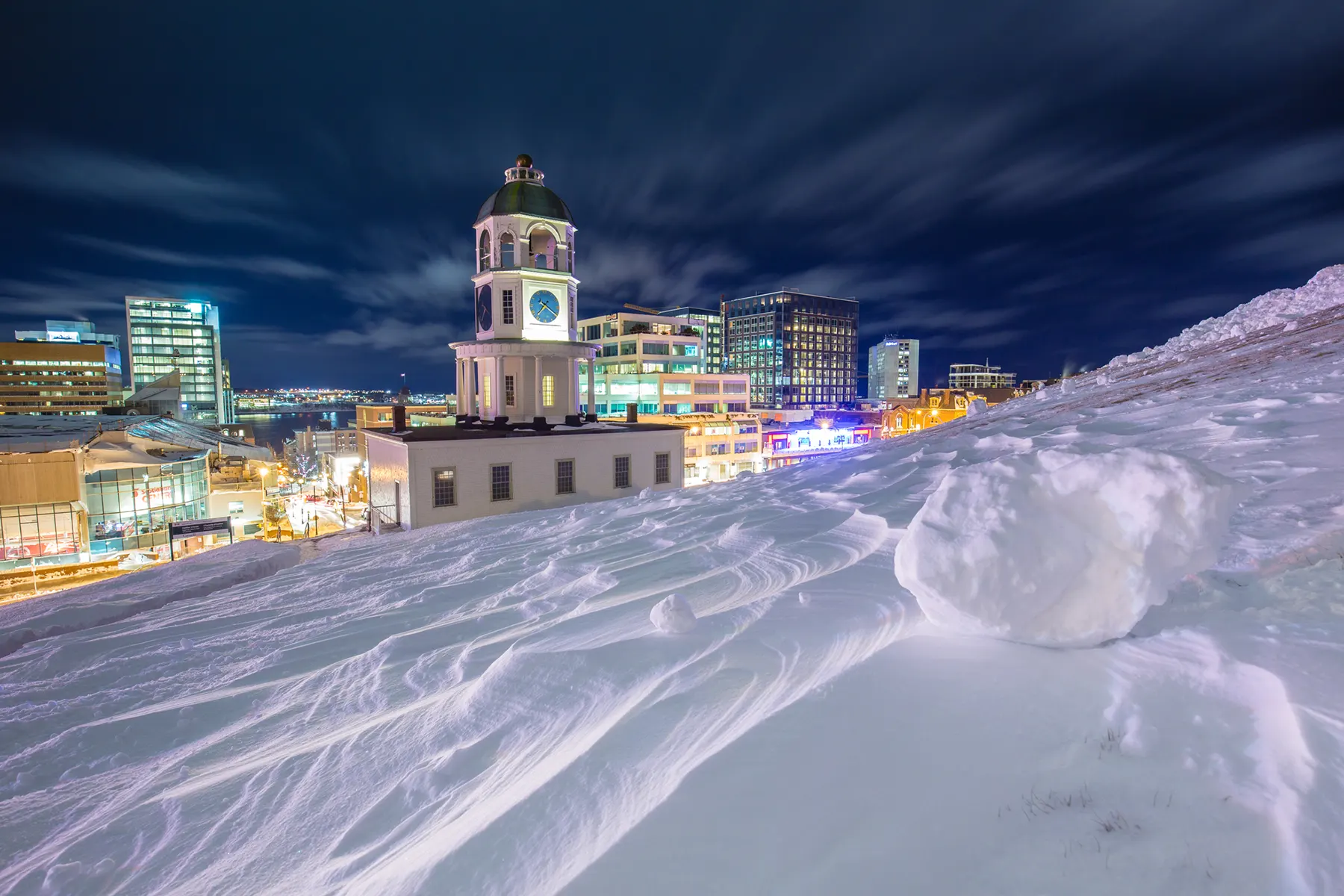 Snowshoeing in Halifax
Once your mugs are empty and your stomachs are full, grab your snowshoes and head to one of the many trails surrounding the city. If you don't have your own, you can easily rent snowshoes from one of the many locations across the city.
Shubie Park

Shubie Park is located on the north side of Lake Micmac and is a 16-hectare urban park perfect for snowshoeing. There are three main routes in the park, including one off-leash path for dogs. Head here on a sunny day after a good snowfall for a picturesque walk through a winter wonderland.
Halifax Common
This central winter location offers the perfect flat terrain for beginners to get in a light and leisurely walk. If you don't have your own equipment, the City of Halifax offers free snowshoe rentals at the Emera Oval during public skate hours. Just bring a piece of government issued photo ID.
Sir Sandford Fleming Park
This park is ideal for multiple skill levels and abilities. It's well maintained during the winter, and popular with locals. Located along Purcells Cove Road, the park has routes that will bring you to the Northwest Arm, the Dingle Tower, through forest and along the well-known Frog Pond.
The Bluff Trail
This popular hiking trail becomes an entirely new place once the snow falls. Located near Timberlea, the Bluff Wilderness Hiking Trail offers multiple trail options and distances, but this trail is not for the inexperienced. The route offers stunning views of protected forest, waterways and rock faces, all covered in fresh powder and icicles.
Skiing near Halifax
If snowshoeing isn't your winter sport of choice, there are several ski options not too far from Halifax. Located less than an hour away, Ski Martock makes for an easy day trip with well-maintained hills for both skiing and snowboarding. If you're willing to travel a bit further, Ski Wentworth is an hour and a half away and offers options for beginners and experts. Or, try your hand at cross-country skiing on one of the many local trails in Halifax. McDonald's Sports Park in Waverly features 7.5 kilometers of groomed trails along Lake Thomas and is a popular cross-country destination with Nordic skiers.
Go Skating at the Oval
One of the top winter activities in Halifax is skating at the Emera Oval located at the Halifax North Common. The rink has scheduled public skate times every day and skates and helmets are available free of charge. Even if you don't skate yourself, it's a wonderful spot to people watch while enjoying a warm Beavertail treat. The Oval is particularly beautiful at night when you can skate under the stars.
Indoor Activities in Winter
After an afternoon filled with outdoor adventure, head inside for a little warmth and grab lunch at one of the many great restaurants, pubs, or cafes in Halifax. In the winter, you can find cozy corners to warm up in at almost every restaurant while you watch the snowflakes drift past the window.
After lunch, continue to keep warm with an indoor activity. There are plenty to choose from during the winter:
Try your hand at axe throwing at the Timber Lounge
Play unlimited board games at The Board Room Cafe
Shop at Park Lane, Halifax Shopping Centre, Mic Mac Mall, Dartmouth Crossing and the hundreds of independent shops throughout the city
Rock climb at Seven Bays Bouldering cafe
Play ping pong at Pong Social Club
Experience an escape room at one of the escape rooms in Halifax
Enjoy craft beer flights at Stilwell, Good Robot, or any of the 15+ craft breweries in Halifax
Evening Stroll
After you've eaten dinner, finish your evening with a stroll through downtown Halifax. Stop at a local café for a hot apple cider or a hot chocolate to keep your mittens toasty. Walk through bustling Argyle street to Grande Parade square, then head to the charming Historic Prosperities. Take the ferry to Dartmouth and walk along the harbour from Alderney to Woodside, where you'll be left with fantastic views of city skyline.