Protective barriers are a common sight at stores and offices around Halifax these days as businesses welcome customers and staff back with new social distancing and safety guidelines.
Early in the COVID-19 outbreak, Beaumont & Co. - a local company specializing in tradeshow exhibits, displays and experiential events - saw parallels between fabrications for the events industry, and the type of fittings needed to create safe workspaces and pop-up locations for medical personnel.
Using existing high-quality materials and their expertise and experience in building easy to construct temporary spaces, Beaumont got to work designing protective barrier systems for workplaces.
We caught up with Sean Court, Partner at Beaumont, to learn more about how their customers are refitting their workplaces with protective equipment.
How can businesses know if they require protective barriers in their workspace?
In general, protective barriers should be used in high traffic/greeting areas and especially when 2 meters of distance cannot be kept.
Where should protective barriers be considered?
We recommend that reception and service areas be reviewed first, as they experience the highest volume of people. Businesses should also consider office desks and cubicles and unique areas like a shared kitchen. The key is to be considering customized protective barriers in areas where people cannot maintain 2 meters of separation.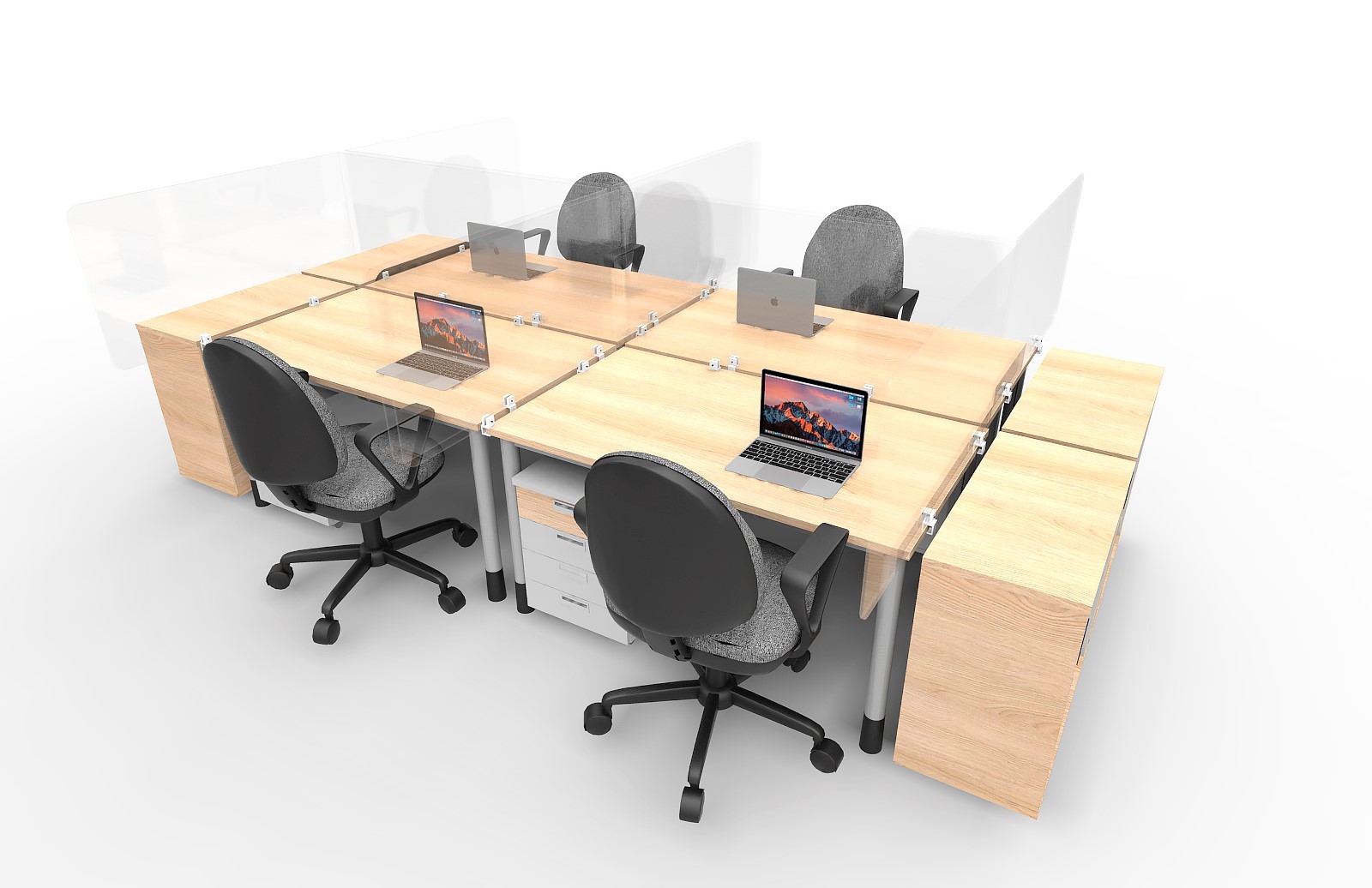 How can businesses set up their reception/service area for success?
Talk to your team about the way the area is used. What will they be required to do that will need to be supported through their protective barrier? Are they required to scan badges, or do they typically pass large items across the desk?
Customize the protective barriers to your needs. If you have a retail store, you will need to be sure that the opening on your barrier is large enough to pass most items through instead of passing around. Passing around the barriers should be the exception, not the norm, as it increases exposure.
Consider voice ports if the area will be loud. This will prevent customers and clients from talking through the barriers, instead of to the side once again increasing exposure.
How can businesses be sure that protective barriers are used correctly?
Proper communication of company policy is important both for staff and for customers and clients. Clearly outline the physical distancing measures you have taken through signage and messaging, and the expectations for how people should interact with those measures. For example, if you have used a protective barrier, your signage should be clear that people should speak to staff behind the barrier instead of moving behind or around it.
Businesses were not expecting these costs, how are these being funded?
The Province of Nova Scotia has announced a COVID-19: Small Business Reopening and Support Grant that provides funding to those that may have been forced to close/reduce operations by the Public Health Order or were impacted by social distancing measures.
Businesses could receive a one time $5,000.00 grant to help safely reopen business or a $1,5000.00 voucher for advice and services to help adapt and become more resilient in a COVID-19 world.