There are many reasons to fall in love with Halifax, but it's hard to resist the beautiful coastline, scenic views, and ocean opportunities that this region provides. Living and working by the ocean not only offers natural beauty, but also great opportunities for individuals and businesses alike. Here are some perks of living and working by the ocean.
Boardroom to beach in 30 minutes
No matter where you are in Halifax, you're never far from the ocean. In Halifax can you experience the benefits of city life while only being 30 minutes away from white sand beaches and ocean breezes. In the heart of our city is a busy working harbour spanning 4 km, along with one of the world's longest urban boardwalks. It's also only a short getaway from downtown to scenic coastal communities like Peggy's Cove (the new viewing deck is amazing!), making city living and ocean play accessible to everyone. Living and working in Halifax makes coastal living a reality.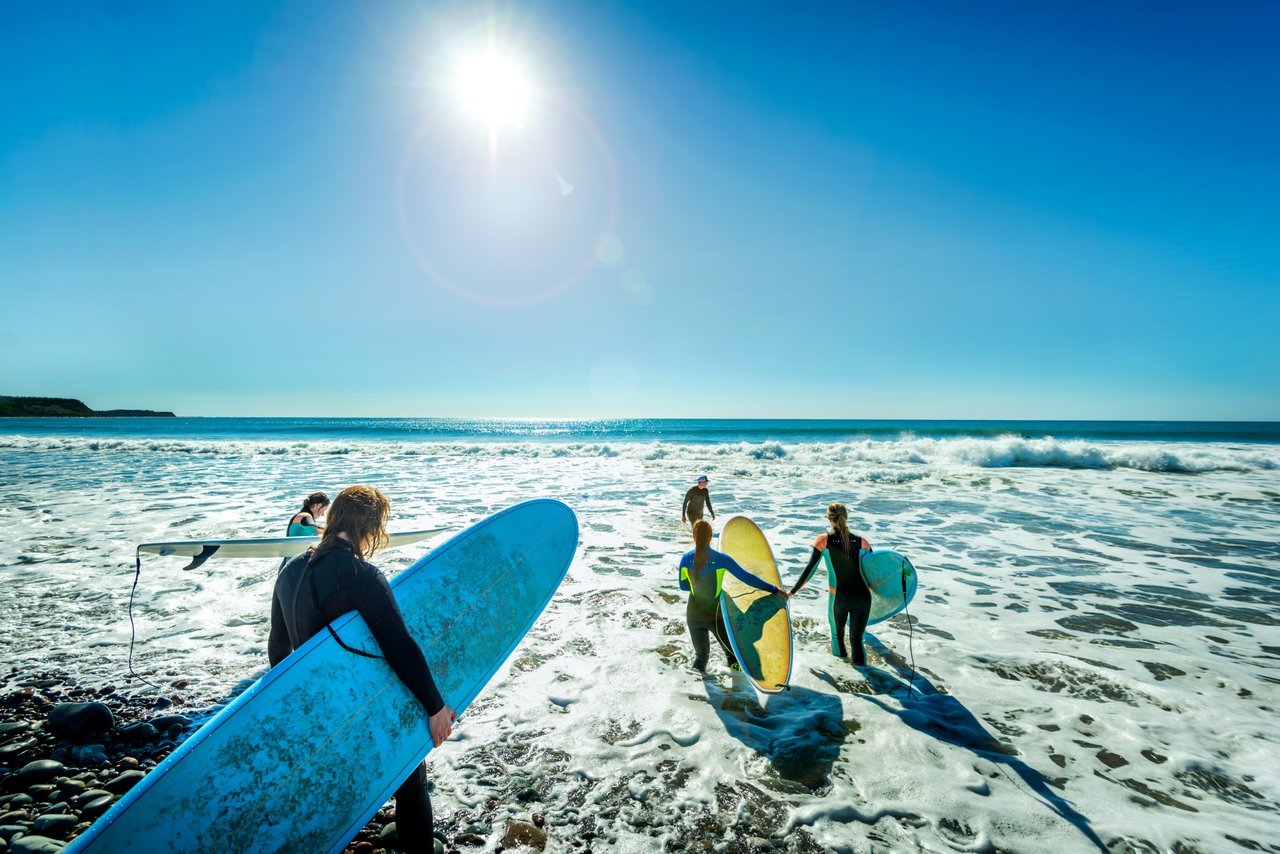 East Coast Culture & Lifestyle
Halifax offers a rich maritime history coupled with modern urban amenities and experiences. Here you'll find a distinct east coast culture and lifestyle that is welcoming, progressive, laid back, and "sociable" (which means "cheers" and can often be heard shouted at a local pub or celebration as we toast and enjoy good times).
Halifax welcomes thousands of young professionals and newcomers every year who fall in love with our coastal lifestyle and enviable combination of urban and rural living. Residents enjoy life both in and out of the office with over 200 urban, rural, and suburban communities to live and work and a walkable downtown sprinkled with coffee shops, independent retailers, craft breweries, and pubs, all within a half hour or less to nature and outdoor recreation options.
We're happy to share our vibrant city with newcomers and visitors, and our approachable size means you can get to know the people and places.
Endless ocean activities – year-round!
Being on the ocean means endless ways to enjoy the water, from sailing, to paddling, to deep-sea fishing and surfing.
Head to the St. Mary's Boat Club for free canoeing, kayaking, or stand-up paddle boards rentals, and other recreational programs offered year-round. Or jump on a Sea-Doo and explore the waters around George's Island, McNabs Island, the Halifax Waterfront, and the Bedford Basin with Harbour Watercraft Tours & Adventures.
Halifax is also known for being a surfer's haven, whether you're a first-timer or a seasoned pro, supported by a vibrant local surf community with spots like Lawrencetown Beach and Martinique Beach welcoming people all season from every corner of the world. Discover more reasons to surf in Halifax.
Halifax is making waves in the ocean economy
Being located on North America's east coast, Halifax is a leader in ocean science and business, with over 60+ ocean tech innovators and more than 500 companies doing oceans-sector business within Nova Scotia. Home to new high-tech ocean products and services and Canada's largest centre for oceans research, the marine sector contributes over 60,000 jobs to Nova Scotia's economy and will only continue to grow, providing endless opportunities for individuals and businesses to innovate. Coupled with top research institutions, Halifax's close-knit and collaborative community is advancing marine science and ocean technology on the world stage.
From academic institutions to Canada's largest centre for ocean research, there are many organizations that play a role in furthering and growing the ocean economy and job opportunities here in our region. The following organizations are key players that are contributing to driving entrepreneurship, growth and innovation in the ocean economy: