Meet Ossama Nasrallah owner of The Harbour Watercraft Tours & Adventures
Are you from Halifax? If not, what brought you to Halifax?
I'm originally from Lebanon and moved to Halifax in 2014 to study at Saint Mary's University. I started my university journey at the language center, learning English as a second language before focusing on my commerce degree. I graduated in 2018 with a Bachelor of Commerce degree with a major in Marketing and completed a Human Resource Management certificate in 2019.
What do you love most about Halifax?
The people, nature, and the community. Halifax made me feel at home, even though I was far away from home, since day one. From the warm welcome the community offered me, to the support throughout my personal and professional growth—that's what made me stay and start a life here. People here want you to succeed, they want you to grow and stay. I made lifelong friends, have a strong support system, and have met outstanding people. This is what makes Halifax special.
How would you describe Halifax to someone who knows nothing about the city?
A small, but growing city, with great people who are always willing to give you a hand. A place where you can work, live, and build a family and future. The water is just steps away from any location, giving you a sense of nature and escape. The kindness of people will make you feel you belong to this place. It is vibrant, diverse, and full of diverse cultures and a positive force. It is a place you want to call home, a place you want to start your new business, a place you want to give back constantly and explore further.
What is your favourite thing/place/activity in Halifax?
I personally love the ocean and spend most of my time during the summer kayaking and boating. I might be a bit biased, since my love for the ocean and outdoor adventures was one of the reasons I decided to open my own business with my university roommate, The Harbour Watercraft. That being said, I also love the winter, especially when it snows. This could seem very strange coming from someone who came from a place where the temperature reaches 50 degrees. But learning how to ski and enjoy the great outdoors in the winter is what made me fall in love with the winter in Nova Scotia. Not to mention the winter hikes, that's a must for me every year.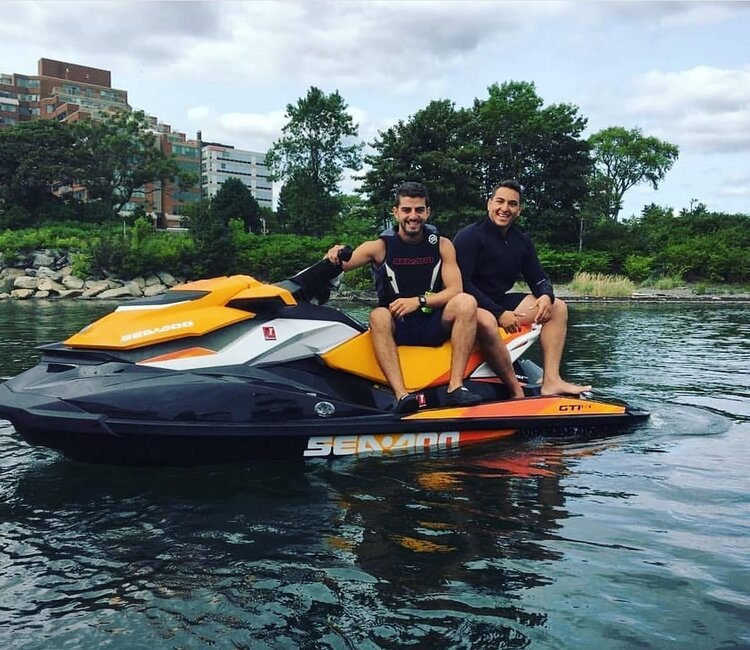 What surprised/surprises you most about Halifax?
I was really surprised by how easy it is to start a new life in Halifax and how welcoming people are, no matter your background, religion, or colour. I was grateful to get a great job right after graduation and start my business career and have the city and community support my dream business on the Halifax Waterfront. There are many support systems in place for someone who wants to move and start a new life here, including starting a new business.
What is the biggest impact living in Halifax has made on your life?
I have learned a lot in the past eight years while living in Halifax, but one of the biggest lessons I learned was the importance of giving back. I was so supported by many community members during my journey here, so I knew I wanted to do the same in return. I was able to get involved in multiple non-for-profits and boards to help make a difference in people's lives and the community I live in. This allowed me to further discover who I am as a person and challenge myself in what I can achieve in a new country away from my family and home. It taught me lessons of resilience, courage, and respect.
What has kept you in Halifax?
Starting a great career and opening my own business allowed me to stay in Halifax and call it home. This is only the beginning though. I know I want to continue investing in this place, these people, and continue to build a future here. This city is constantly growing, and you don't know what the future holds.
Where do you see the future for Halifax?
I see it as a growing and evolving city with people from around the world calling it home. A place where many will consider living and building their families, and making their dreams and goals come true. A city of young, smart, and hard-working youth whose goal is to make it one of the best cities in the world.
What advice would you give to others thinking about moving to Halifax?
My advice to recent immigrants to Halifax is to adopt the culture and to stay open-minded. If you are a student, get involved and get to know more Canadians. People are lovely here. If you are here to start a new life, always remember the sky is the limit and never let anyone tell you your dreams are too big or can't be achieved here. The impossible can become possible in a city like Halifax. Always remember to give back to the community that supported you and made you feel like home throughout your journey.
Check out Ossama's business Harbour Watercraft Tours & Adventures on Instagram and be sure to visit them during the summer months!