Congratulating Craig Thompson, Regional Senior Vice President of the Atlantic Region for Scotiabank on his career and retirement
Posted: December 9, 2020
How do you define the career of a leader? Someone who has contributed not only to their company, but also to the broader industry and community for decades. Craig Thompson, Regional Vice President for the Atlantic Region of one of our founding Investors Scotiabank, is retiring and his career path embodies that of a business and community leader.
Craig hails from Riverview, New Brunswick and holds a Bachelor of Science and an MBA from Dalhousie University. In 1982 he joined Scotiabank and has held a number of positions in International Trade Finance, Risk Adjudication, Branch Management, and Commercial Banking while living in three of the four Atlantic provinces. In his more than 38 years in various senior roles across the Retail and Commercial Banking teams, including leading local retail banking operations as the Regional Senior Vice President in the Atlantic Region for the past six years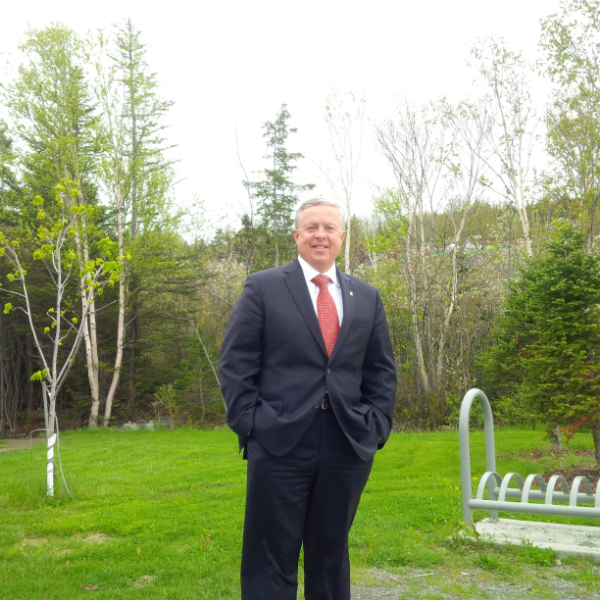 In 2013, Craig was awarded the Queen Elizabeth II Diamond Jubilee Medal for Community Service in recognition of his long history of community involvement across the Atlantic Region. This includes his current tenure as Chair of the Board of Directors for Hope Blooms Inc. and Vice Chair of the Board of Directors for United Way Halifax. While Craig has announced that, in line with his retirement, he will be stepping down from Hope Blooms, his passion for the organization will always keep him connected to their work. He will remain as Chair of the United Way Halifax for another year, and then Past-Chair until the end of 2022.

We, along with our network of Investors and partners, wish Craig all the best in his next chapter, and thank him for his contributions to Halifax.
A few members of Craig's extensive network also wished to extend their congratulations:


"Craig has been a leader in our community in so many ways. Clearly, he has been a strong voice for Scotiabank and achieved great success. I have met with him on a number of commercial issues but have met him even more often on behalf of community projects, particularly Hope Blooms. He has worked tirelessly with Jessie and the kids and has made huge contributions to their meteoric achievements. He has a big heart to go with his wisdom and acumen. He has been a special guy in our community."
- Mayor Mike Savage
"Craig is an incredibly dedicated, astute, and compassionate leader and individual who has given so much to Scotiabank, countless charities and the community at large for almost four decades. The magnitude of personal impact – and the impact he has inspired through his leadership – is difficult to measure, yet so worthy of celebration. United Way Halifax is grateful to have such a talented, focused and genuine leader in our midst as our Board Chair, donor, community champion and friend. We look forward to celebrating this critical milestone for Craig, and to continuing to work with and learn from him in the years to come."
- Sara Napier, President & CEO, United Way Halifax
"I had the pleasure of meeting Craig many years ago when he was with the Scotiabank Commercial Banking team. It was certainly no surprise when Craig was appointed Senior Vice President in 2014. It was very apparent that Craig had exceptional banking skills, the most impressive of which was his ability to understand what was important to his customers. I think this critical attribute was a result of his interest in and caring for people. As impressive as his banking career has been, equally impressive is his tremendous history of volunteering in our community as Chair of the United Way, and connections to other such notable organizations as Enactus and the Art Gallery of Nova Scotia. In his role as the Chair of Hope Blooms, I witnessed on numerous occasions how extremely proud Craig was of the success of so many students who were involved with Hope Blooms. Today, there are countless young students and entrepreneurs who have benefitted greatly from Craig's tremendous compassion, caring, and mentorship."
- John Fitzpatrick, Partner, BOYNECLARKE LLP